C-DEGREE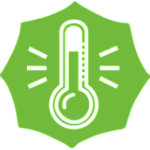 Every year the food industry loses millions of dollars due to spoilage and contamination and spends countless hours recording temperatures on handwritten paper logs.
---
The question is "exactly how much did all this cost your company in dollars and time spent on outdated, unreliable systems to protect your most valuable asset?… Your inventory".
The C-Degreeº program electronically tracks holding temperature in your refrigeration units 24/7 to safeguard inventory, reduce labor costs and provide critical data for regulatory agencies, all at an affordable price.
Electronic remote monitoring stores temperature readings indefinitely
Immediate text alerts are sent when temperature goes out of "Safe Range"
Documents all regulatory compliance and corrective actions
Provides easy access to historical data
Eliminates time consuming and costly paper-based record keeping
Benefit from US-based, ongoing support
ConcernTrak technicians will walk you through every step of the process from site analysis to installation. We will help you choose the system that address your specific needs and budget. Your system will be customized and configured to optimize efficiency, ensure safety and maximize the shelf life of your temperature sensitive items.
C Degreeº from ConcernTrak is your gateway to a fully automated HACCP compliance and lot traceability program, saving you time, money, product loss and man hours.